San Angelo Cancer Care
Shannon Cancer Center
Shannon provides a comprehensive cancer program to patients and their families in San Angelo and the surrounding areas. Our trusted specialists offer a complete range of services, enabling you to make the best possible choices during a difficult time. It is our goal to provide assistance, encouragement, and exceptional care through our vast resources. We take pride in the quality of our patient care, and our team continually strives to uphold our values of accountability, service, integrity, respect, and excellence.
The American College of Surgeons accredits Shannon's cancer program with the highest approval rating available. Our affiliated physicians include board-certified medical oncologists, radiation oncologists, and surgeons.
Medical Oncology
Medical oncologists are available upon referral by your physician following the diagnosis of cancer. During your initial consultation, our specialists will discuss your options—developing a customized treatment plan to meet your unique needs. We offer an array of treatment options including chemotherapy and hormonal therapy, which are primarily performed on an outpatient basis and administered by certified oncology nurses. Depending on your diagnosis, we might combine these treatments with other modalities, such as surgery and radiation. Additionally, referrals to research facilities offering clinical trials are also available upon request.
Radiation Oncology
Radiation oncology is a form of cancer treatment that uses high-energy x-rays to provide localized treatments that can be used in isolation or in conjunction with other modalities. Shannon Oncology Center is the only radiation therapy center in West Texas accredited by the American College of Radiology, so you don't need to leave town to receive the high-quality radiation treatments you need.
The technology available at the center is unique and advanced for its size. The center's highly trained staff, includes our board-certified radiation oncologist, chief therapist, medical physicist, and dosimetrists.
Our radiation therapy treatments include:
Three-dimensional conformal radiation therapy
Image-modulated radiation therapy (IMRT) and image-guided radiation therapy (IGRT)
Stereotactic body radiation therapy
Stereotactic radiosurgery
HyperArc treatments
Surgical Treatment
Surgery is one of the main treatment methods of cancer, and your surgeon has a role in almost every facet of cancer treatment. The surgeons at Shannon Oncology Center possess expertise in the management of a variety of malignancies—utilizing the most advanced equipment and methodologies available. This includes our minimally invasive, robotic-assisted surgery options.
State-of-the-Art Oncology Treatments in San Angelo
The Shannon Oncology Center provides a comprehensive continuum of services for cancer care. To ensure a healing and relaxing atmosphere throughout your treatment, our center is equipped with:
28 outpatient chemotherapy chair stations, with each station equipped with a personal entertainment unit/television
2 Image Guidance Linear Accelerators
Fully staffed on-site pharmacy
Patient education center
Clinical and financial patient navigation services
On site supportive care including social work and registered dietitians
Now Open in our New Location – Shannon Cancer Center!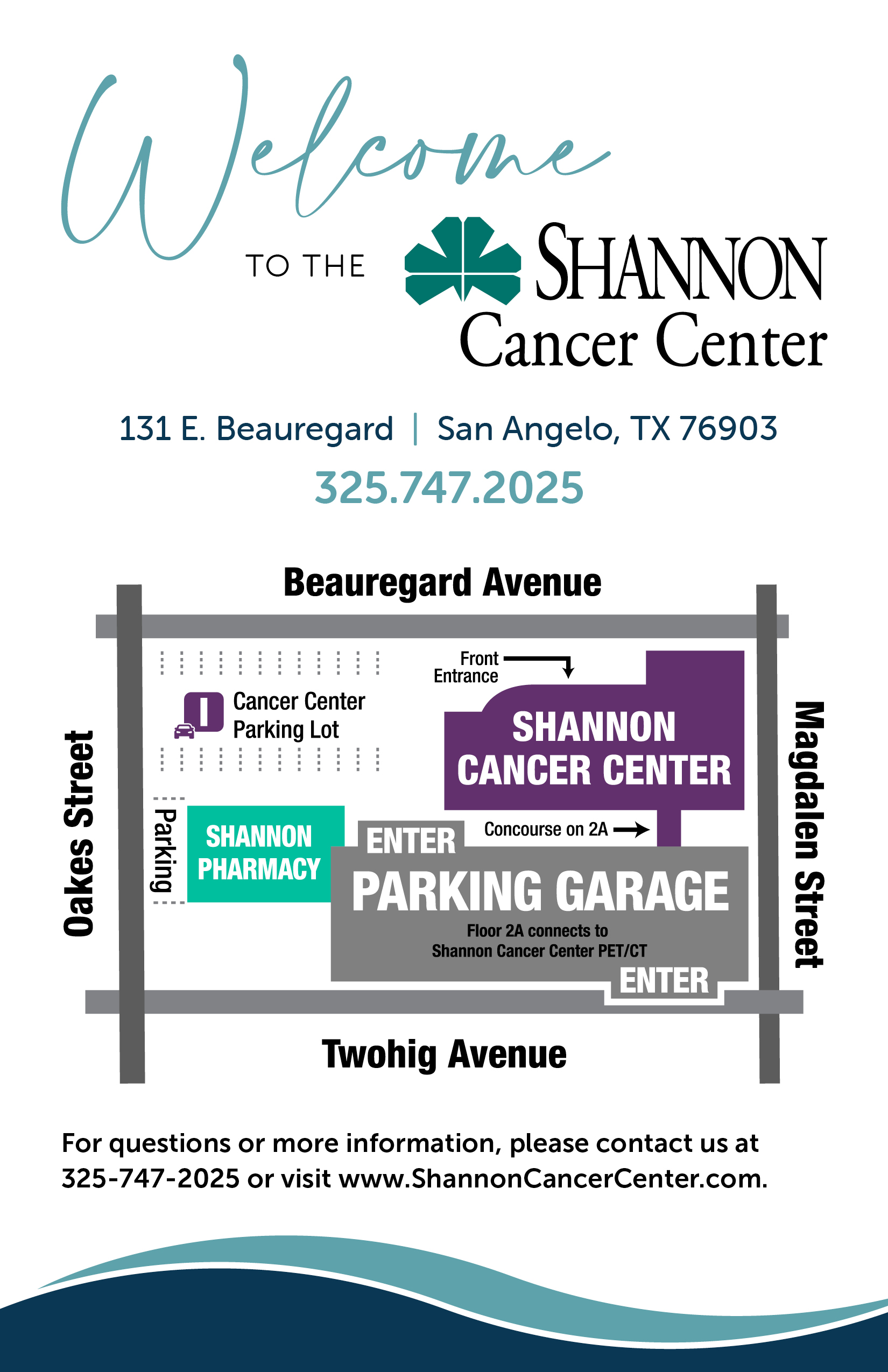 At Shannon, we are committed to delivering exceptional care to each and every patient. To learn more about our cancer care diagnostic, treatment, and rehabilitation services, call our oncology center at 325.747.2025.
Shannon Cancer Center is designated as a hospital/provider-based department of Shannon Medical Center.