Request Medical Records
Request Medical Records & Radiology Images
At Shannon we are focused on keeping your healthcare information confidential. Information will not be released without the patient's written consent, except as required by law. To request a copy of your medical record or radiology images from any Shannon entity, including Shannon South, please click here to download and complete your Medical Record Authorization Form.
Forms should be emailed to ROIRequests@shannonhealth.org along with a valid picture ID (required) or mailed to the following address:
Shannon Health System
Attn: HIM/Release of Information
3555 Knickerbocker Road
San Angelo, Texas 76904
325.747.5198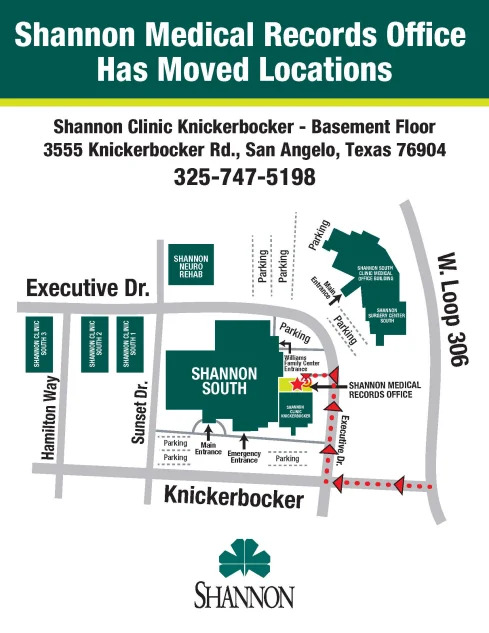 NOTE: The Medical Records department is located at Shannon Clinic Knickerbocker - Basement Floor for pick-up of requested medical or radiology records.
Fees for copies of records provided on a CD are waived. If you request your records on paper and it exceeds 100 pages, please note there will be a fee for those records as follows: pages 1-100 are free, pages 101-400 are 0.80 per page, pages 401+ are 0.44 per page.
Please allow 7-10 days for processing of the request. You will be contacted when records are ready. Records will be sent to you via MyChart which is the preferred method. If you do not have a MyChart account, you can sign up by visiting the Shannon Health website. Records can also be mailed to you. Records you have requested to be sent to other facilities or third parties will be sent directly to them.
Shot Records for adults can be accessed through MyChart. Email ROIRequests@shannonhealth.org to request copies of your child's record which can be sent through MyChart at no charge.
The Document Center of MyChart also allows for patients to view visit summaries, Advanced Directives and Shot Records without having to contact Medical Records. Find out more about MyChart, Shannon's Patient Portal, here!