Meet Our New Oncology Nurse Navigator!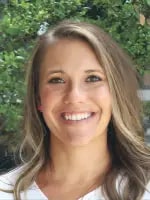 Information and decisions following an initial cancer diagnosis can often be frightening and confusing. Kelsey Coffman is the new Shannon oncology nurse navigator, whose job is to empathize with patient needs and provide advocacy to guide and support them through their cancer journey.
As a nurse navigator, Kelsey will serve as a single point of contact for patients' needs and questions. She will coordinate seamless multidisciplinary and oncology care, as well as help engage any services and resources patients may need. Kelsey's job is to work with the patient to provide information to make their visits easier, help decrease any barriers to care that may arise and provide aid in personalizing plans for care for each individual.
To help get to know her, we asked Kelsey a few questions:
Q: What was your job prior to being a nurse navigator?
A: I was a nurse with Dr. Cheruku in oncology for almost two years.
Q: Tell me a little about your job, what you get to do and how you are able to support the patients.
A: My goal is to empower, educate and walk with patients through their cancer journey. Once they're diagnosed with cancer, it can be really overwhelming. Sometimes they don't know what their next steps are, so my goal is to explain everything so they can get some of their questions answered prior to seeing their provider.
Q: Do the patients come see you first before going to their oncology provider?
A: Yes; I get in contact with them whenever they receive their diagnosis. I explain as much as I can to decrease their anxiety and stressors, as well as work to solve their barriers, such as finances and traveling, before they ever step foot into the oncologist's office. A lot of times, the transition from the hospital to the clinic is overwhelming, and patients may have trouble following through to get treatment. Whether they have issues like not having a ride or being scared to face their diagnosis, I can step in and do anything I can to give them resources to help.
Q: What are your primary goals for your patients?
A: My goal is to be a patient advocate and help them feel better about their cancer diagnosis by personalizing their cancer care plan. I want to help them fight their battle and handle the things they don't need to worry about during their journey.
I also work a lot on the survivorship side. Once they have gone through treatment, I set up support groups and become the point of contact while they monitor their remission status and checkups. They don't have to call and wait for a provider to answer their questions—they can just call me and I can help them through anything they are struggling with.
Q: What made you want to be a nurse navigator?
A: I wanted to be able to stand by the patient and be their advocate. I wanted to be able to get to know them more.
Q: What would you say is your favorite part about your job?
A: My favorite part is getting to know the patients. I have a feeling I'm going to get really close with them, which may be really hard on me, but I love it. I love getting to know them personally, figuring out what drives them and what their goals are in life and what they want to accomplish.
Need a helping hand?
Get in touch with Kelsey by calling 325.747.3994 or emailing cancerempowerment@shannonhealth.org.