Blake Koenig
Author: Blake Koenig
Date Submitted: Jun 4, 2018
Category: Miracle Stories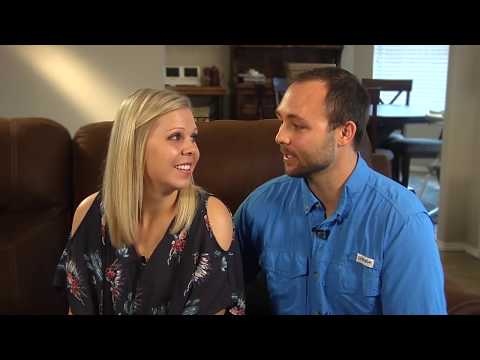 A Tiny Start
Kaleigh and Colby Koenig always knew they wanted to start a family. The couple met during nursing school and married soon after. Six months later, they found out Kaleigh was expecting.
"My pregnancy went well through week 23," Kaleigh recalls. "I felt normal and I had been working. Early one morning around 3 am, I woke up twice to go to the bathroom. I had a rush of blood and it felt like I was having contractions. We rushed to the hospital."
When the Koenigs arrived at the Shannon Women's & Children's Hospital, Kaleigh was bleeding severely. She knew she was in labor.
The Labor and Delivery team tried to stop Kaleigh's labor. A plan was put in place to transfer her to St. David's in Austin where a team of pediatric specialists would be available to help with such a critically premature delivery. But, she and her baby were becoming more unstable as time passed. Her OB/GYN, Dr. Laura Adams, informed the Koenigs they did not have time to wait for a transfer and that every measure was going to be taken to save their baby. The decision to deliver was made.
"We were in shock," Colby says. "Dr. Adams was amazing and she was exactly what we needed. When she said we were delivering she meant business, she was yelling for nurses, and off we went!"
After the delivery of their baby girl, Blake, the whirlwind of activity continued.
"We needed to deliver right away and we talked to Colby and Kaleigh about the risks of preterm labor," says Dr. Karl Wehner, Shannon's Pediatrician. "After delivery, Blake cried right away and that was a good sign."
Babies born as early as Blake often have trouble keeping their lungs open which was a major concern of Dr. Wehner and the team. She was stabilized in the delivery room before transport to the Shannon NICU.
"Blake was surrounded by nurses and on her way to the NICU in less than 10 minutes," Colby recalls. "It was amazing to see what they could do for a tiny, little human. Dr. Wehner was wonderful. He told us they had everything they needed and that they had delivered babies like Blake before. He was extremely reassuring."
Dr. Wehner and the NICU team began working quickly to create a comfortable environment for Blake.
"A 24-week-old infant isn't much bigger than the palm of your hand," Dr. Wehner says. "We had to start IVs so she could get nutrition and fluids. Babies born this early also lose fluid through their skin. They are placed in a bag-like device to keep their hydration status up. It's very important to keep their environment still, quiet and warm like the womb. Everyone is very gentle and it's important to be calm."
During this time, Kaleigh was still recovering from the delivery. She was able to see Blake briefly before she was transported. Two days later, Kaleigh was discharged and the new parents traveled to Austin as soon as they could to see their baby girl again.
"It was the longest car ride we've ever had," Colby says. "Walking up the hallway to the NICU was very emotional and seeing her for the first time was crazy. It's hard to describe how little she was."
Colby and Kaleigh were still unable to hold their daughter for the next week due to the breathing tube and other necessary equipment she required to keep her stable. The next several months were hectic and long as they watched their daughter undergo multiple tests. Bleeding in the brain is very common in premature infants. At three days old, Blake underwent a brain ultrasound due to this issue.
"We prayed non-stop and were expecting her to have surgery, but the bleeding eventually ceased," Kaleigh says. "We are thankful she didn't need surgical intervention for this issue."
One night in the NICU, Blake's parents noticed she was acting differently. Her blood pressure was abnormal and she needed more medication than usual. An abdominal x-ray was ordered and revealed a hole in her intestine.
"A tube was surgically placed to drain fluid and it stayed in for two weeks," Kaleigh says. "During this time, she received nutrition through an IV. A food test was done a few days later and her system allowed food to pass through normally. Thankfully, she did not require surgery to repair this issue either."
Kaleigh stayed with Blake the entire time, with the exception of her six-week follow-up with Dr. Adams, while Colby traveled back and forth to keep working in preparation to take time off when they all returned home.
"Kaleigh's coworkers in the Shannon ER were very generous," Colby says. "They donated paid time off to her so she would be able to stay with Blake. We had a lot of support from friends and family. My work was amazing. We had family at work, family at home, friends, people we didn't even know were supporting us."
After 112 days in the NICU, Colby and Kaleigh were finally able to take Blake home. At birth, Blake weighed one pound ten ounces. She left the NICU at six pounds, eight ounces.
"Her head was about the size of a lemon at birth and Colby's wedding ring could fit on her thigh," Kaleigh recalls. "It was a surprise when we found out we were going home, which was actually her due date."
Blake went home on oxygen, the only memento she took with her from the NICU. The Koenigs started the 'normally abnormal' when they got home. They said it was a huge adjustment, but are thankful for the many people who helped take care of her.
"Children's Miracle Network has provided the special equipment and training needed for us to be able to care for babies like Blake," Dr. Wehner says. "Premature babies, especially those introduced to the world as early as Blake, require extra special care and attention. Blake is a miracle for all of us who do this every day."
Colby and Kaleigh are enjoying every step of life with their happy toddler.
"In the NICU, they told her she had to be feisty and she took it to heart," they say. "We are amazed by her every day. Everything she has overcome makes Blake a miracle."