Adison Aaron
Author: Adison Aaron
Date Submitted: Feb 15, 2013
Category: Miracle Stories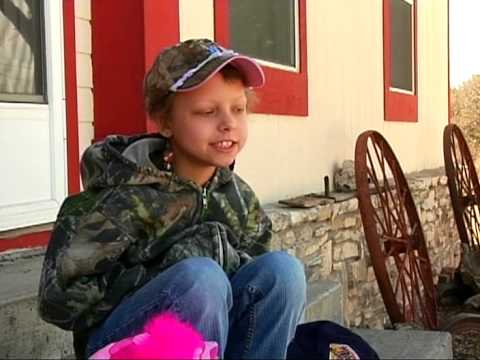 Caring for kids is part of an ordinary day at Shannon. But one young patient there is anything but ordinary. According to nurse Brenda Stallings: "Adison Aaron is such a unique child. She makes us all smile. She comes in wearing her cowboy digs, accessorized with her huge belt buckle, and is always full of stories. She's incredibly spunky."
Adison, whose life was changed by the diagnosis of leukemia, has managed to turn treatment in the outpatient clinic into a social happy hour. Due to her cancer and compromised immunity, she's not allowed to do many of the things others do at her age, including going to school. Being at Shannon allows her to connect and relate with others going through the same challenges and treatment.
Adison's mom, Stacy, remembers her diagnosis. "Adison's school called saying she had a low-grade fever," she says. "When I arrived she looked jaundiced, so we took her to San Angelo for blood work. During the visit, the ER physician made the diagnosis of leukemia. We had no idea what leukemia was. We'd heard about it and knew it was bad."
On Dec. 14, 2006, Adison was airlifted from Shannon's ER to Cook Children's Hospital in Fort Worth. Her family didn't return home until Feb. 13, 2007. Stacy explains, "While at Cook we chose an accelerated treatment since we lived so far away." Fortunately, Adison now receives a weekly treatment at Shannon and then returns to Cook about every six weeks for extended therapy. Her treatments at Shannon last anywhere from one to four hours.
Stacy appreciates that Adison can get her treatments at Shannon. "It's only 87 miles from home, and that means we can sleep in our own beds," she says. "The new outpatient clinic is a great place. In the past, you had to be admitted to a room and just wait. Now, it's more like a home. The care is immediate. There are TVs and things to play with, plus the opportunity for the parents to socialize."
Leukemia has forced Adison to grow up more quickly than her counterparts. It also prevents her from swimming in the lake and doing things with her friends. The diagnosis has changed the family as well. "It's hard on our entire family, because Adison is a count-sensitive child—she really can't be around too many people," Stacy says.
Although Adison is a patient, she sometimes doesn't act like one. Her mother says: "It's not like her to lay in the hospital. She's too vibrant and full of life."
One of the weekly highlights for the nurses at Shannon is Adison's hat collection. More than a dozen embellished hats cover her head at one time or another at the clinic. They're part of her vibrant personality.
"My favorite thing is my belt buckle," says Adison. "I love it because it's shiny and bright."
The same can be said about this courageous young lady who continues to shine like a star in the West Texas night sky.