Taytem Davis
Author: Taytem Davis
Date Submitted: Jun 12, 2017
Category: 2017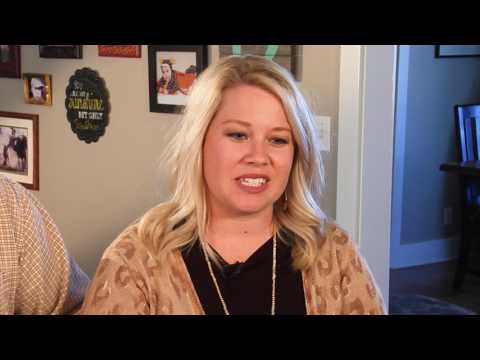 A Cheerful Heart
Taytem Davis has the heart of a fighter. The Sterling City teenager has conquered more in her 14 years of life than most adults and has a bright future ahead of her. Her parents, Kaysee and Blake, are endlessly proud of their daughter, especially after watching her survive open-heart surgery.
"When Taytem was seven months old, her dad passed away suddenly," Kaysee says. "We found out later he had an aortic dissection. We had Taytem tested for the condition and the results showed she had an enlarged aorta."
The aorta is the large blood vessel that branches off of the heart. Aortic dissection is a serious heart condition that causes the inner layer of the aorta to tear and the force of blood pumping through the tear to dissect the inner and middle layers. A rupture of the outer layer often results in a fatality.
Taytem was tested every six months and remained stable. Her parents knew her condition would eventually require open heart surgery, but they thought it might occur in her mid-20s. At age 12, Taytem went from stable to unstable—in a period of five months.
"Taytem came home after a weekend stay with her grandparents complaining of a headache and dizziness," Kaysee says. "We drove to San Angelo to the ER and they admitted her for further examination. We were in the hospital for four days and then we went home. She still didn't feel well when she got home, so I called her pediatrician, Dr. Fernando Gonzalez. He decided to check her heart but didn't think it was any cause for concern since she had been stable for so long. However, the MRI revealed her aorta was enlarged and the concern about dissection increased."
Dr. Gonzalez consulted Taytem's cardiologists in San Antonio and the decision was finally made to airlift her to Methodist Hospital.
"I was very scared," Kaysee recalls. "I knew what happened to her dad and knew it could be fatal. We couldn't get there fast enough."
A thoracic surgeon was called in and a path to keep Taytem from going into aortic dissection was forged. The family prepared for the possibility of a valve replacement, which thankfully was not necessary once the surgery began.
"I didn't really know what was happening to me when I first got sick," Taytem says. "It was hard to be a kid and not really know what was going on. It was scary. But, I knew what was coming when I got transferred from the hospital. I saw the measurements on the ultrasound and knew I was going to have surgery. I was at peace with it."
"We found miracle after miracle after going through this journey," they say. "The surgeon was amazing. He told us he was going to do David's Procedure. We saw an article about this procedure a few days before stating it was the best procedure possible, and Taytem's surgeon had practiced under the developer of the surgery. We were thanking God we were in the right place at the right time."
Taytem came through the surgery successfully and began the recovery process, but the journey was not as smooth as the family had hoped.
"Recovery was ten times worse than what we felt during Taytem's surgery," Blake recalls. "We could see the pain she was in. She had three drainage tubes and tubes in her neck and arms. It was hard to see her like that."
Taytem turned 13 during her stay in ICU, an occasion every teenager usually revels in, but she was in no mood for a celebration.
"My brain blocked out a lot of what happened to me after surgery, but I do remember being in pain," she says. "Before the surgery, I told myself I would be out of ICU before my birthday. When that didn't happen, I think it put me in a hole."
Taytem was eventually moved out of ICU and back to a normal recovery unit. She progressed quickly after the move, began eating, and went home two days later where her recovery would continue.
"I was concerned about her when we got home," Kaysee says. "She was happy to be home and be around her friends, but she started to be depressed. Everything she went through came crashing down at the same time and she didn't want to leave my side. She was out of school for six weeks, but she didn't even want to go back after that. We sought some help for her and asked if the depression was normal. We couldn't find a niche to put her in to get some of those feelings out."
"It all hit me at the same time after I got home," Taytem adds. "I realized what I had gone through and everything that had happened, but I'm doing much better now. I'm looking forward to having my life back and not having one thing control it."
Now, Taytem has come a long way since her surgery. She has follow-up appointments every six months and will have a total body MRI annually. Her doctors monitor every artery in her body to ensure no aneurysms are present. She does have physical limitations, such as no participation in contact sports, but she is back to cheerleading, which is her favorite activity.
"She has come back to herself, who she was before surgery," Kaysee says. "Her medication does make her hypoglycemic so we have to make sure she eats properly, but she's just a typical teenager—sweet one minute and feisty the next. She's a great big sister to her three siblings."
The Davis family is thankful for the support and care they have received throughout Taytem's journey.
"We've had great experiences in our visits and stays at Shannon," they say. "Your time in the hospital is not great and the reasons you are there are not great, but the rooms and the nurses are amazing. We think the Children's Miracle Network is very beneficial for these reasons. There were so many activities and we could go outside and walk around. We missed that component when Taytem was recovering from her surgery. What CMN provides is far greater than what you would normally experience during a time in the hospital."
Taytem continues to move forward with a positive outlook. She is grateful to help spread the word about CMN.
"I feel great now," she says. "CMN is able to help shine a positive light on a negative situation, and I want to help kids' hospital stays feel positive."
Blake and Kaysee are definitely, and understandably, proud of the young lady their daughter is becoming.
"She is a miracle because she's come through obstacle after obstacle and has endured and came out of them the same person she was going in," they say. "She's very bright and we are looking forward to seeing her graduate, go through college, and take on the future."