Savhanna Alvarado
Author: Savhanna Alvarado
Date Submitted: Jun 12, 2017
Category: 2017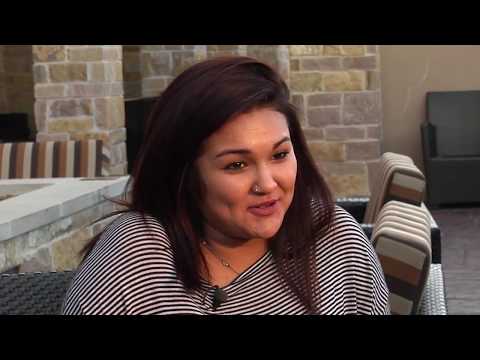 Fighting and Smiling
The feeling of not being able to breathe is certainly terrifying. For Savanna Alvarado, 16, this is a fear she must face each day.
"She started having problems around age two or three," Stacy Hodega, Savhanna's mom, says. "We noticed she was having trouble breathing, she looked like a little fish trying to get air. We took her to the doctor and that's when she was diagnosed with asthma."
In most cases, the severity of a child's asthma lessens with age, but Savhanna's condition has worsened as she's become older. Dr. Fernando Gonzalez, Shannon's pediatrician, diagnosed Savhanna and has treated her throughout the years.
"Severe, persistent asthma is uncommon," he says. "Savhanna's attacks are almost always of sudden onset and become significant quickly. Less than one to two percent of all asthmatics progress to this stage of recurrence and treatment."
Savhanna is old enough to do her own breathing treatments now, but there are times when those treatments do not remedy her situation. Each year, Savhanna is admitted to the Pediatrics Unit at Shannon approximately once a month. Her longest stretch without hospitalization is three or four months.
"When it doesn't work, we have to call the ambulance to come and take her to the hospital," Stacy says. "It's horrible for me when she has her attacks. I feel helpless. Watching her not be able to breathe is terrifying. I want to breathe for her and I can't. There are times I watch her at night when I know she's having problems because I'm scared she's not going to wake up."
"It's so hard when I have those attacks," Savhanna says. "I fight too hard every time."
The nurses and staff in the Pediatrics Unit have become acquainted with Savhanna and her condition over the years. They are always ready and waiting for her when they know she's on her way. Laynie Mesch, LVN, is one Shannon nurse who has provided care for Savhanna. She has seen the teenager's asthma at its absolute worst.
"The worst time I've ever seen her is still stuck in my memory," Laynie says. "She couldn't breathe or walk straight coming down the hall. We had to move quickly. We placed her in a room and began oxygen and steroids. Another attack was so severe she was admitted to the Intensive Care Unit."
The exact triggers that cause Savhanna's asthma to flare up are unknown, but the attacks can be attributed to a variety of sources.
"The most common trigger in children is a cold or respiratory illness such as an allergy," Dr. Gonzalez says. "Triggers for some children can also be stress, exercise, or even a change in the weather."
Thankfully, once treatment begins Savhanna feels better quickly. She is monitored closely for a few hours to help her care team determine if she needs to be admitted or if she can go home.
"When she's admitted to the Pedi unit at Shannon, I know she's going to receive great care," Stacy says. "We know the nurses there now. They take good care of her and I don't have to worry when we are there. I know she's going to get better."
Through funding from Children's Miracle Network, Laynie and the Shannon pediatrics nurses receive asthma education and training to help treat their patients with this condition.
During her time on the unit, Savhanna utilizes the television in her room, the gaming systems, the Teen Lounge, and the outdoor garden—all provided by CMN.
"I get along with the nurses and I like them," Savhanna says. "They want me to walk around on my own to see if I need the oxygen or not. I walk around the garden outside. It's my favorite place. It's very peaceful."
In the midst of the asthma attacks, ambulance rides, and hospital stays, Savhanna tries to maintain some sense of normalcy.
"She is very good about taking her medications as directed, but she still continues to have these severe attacks which can interfere with school attendance and extracurricular activities," Dr. Gonzalez says. "There is a possibility she may have some complications in the future from chronic use of inhaled or oral steroids, but Savhanna has maintained a very positive outlook in spite of her medical problem. She always has a smile on her face."
"I know it's a challenge for her to live with asthma every day," Laynie says. "I've never had a chronic illness, but I know it's hard for her to be in the hospital multiple times a year, spending time with us instead of her friends. She lives as regular of a life as possible with her medications, but she still has to come to the hospital. I am happy we are able to provide care for her here. Luckily, all of the items and places provided by CMN help keep Savhanna distracted and make it easier for her to be a teenager in the hospital."
Savhanna is enjoying her teenage years as much as possible while setting her sights on the future on all she wants to accomplish.
"I want to help people with special needs," Savhanna says. "I had a chance to do that in middle school and it was my favorite part of the day. I love helping kids. Maybe if I share my story other people might not feel so alone in their sickness."
Stacy is hopeful her daughter's condition will eventually be easier to control.
"We're very grateful we get to stay here in San Angelo," she says. "It makes it easier for me to continue working and not miss because of travel. I know Savhanna is getting good care and that makes it easier for us. We hope eventually it will be easier for her to manage and she won't have to come to the hospital as much. She's growing up to be a beautiful young lady. She's a miracle because I get to have her every day. She's my only baby girl, my whole world."