Braised kale with black beans and tomatoes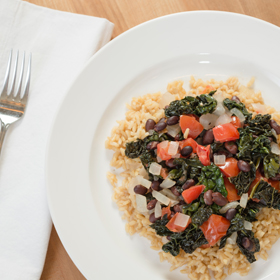 View step-by-step instructions
Makes 4 servings.
Ingredients
1 bunch kale (about 8 to 10 leaves)*
2 teaspoons extra-virgin olive oil
1 large onion, diced
5 large or 6 medium plum tomatoes, seeded and diced (2 cups)
2 garlic cloves, halved lengthwise
1 can (15 1/2 ounces) black beans, rinsed and drained
1 1/2 cups fat-free, reduced-sodium chicken or vegetable broth
Salt and freshly ground black pepper, to taste
*Lacinato, also called "dino (dinosaur) kale" or cavolo nero, is the best choice, but any kale, including curly green and red Russian, can be used.
Directions
Using a sharp paring knife, slice off the hard central vein of each kale leaf.
Stacking 3 to 4 leaves at a time, cut them crosswise into 1/2-inch strips.
Rinse in a colander or sieve and shake well, leaving some moisture clinging to leaves.
In a large Dutch oven or heavy pot, heat oil over medium-high heat.
Sauté onion until translucent, about 4 minutes.
Add kale and mix until wilted, about 3 minutes.
Add tomatoes and garlic.
Cook, stirring, until tomatoes soften slightly, about 3 minutes.
Add beans and broth.
Bring to a boil; reduce heat; and simmer until kale is tender, about 30 minutes.
Season to taste with salt and pepper.
Serve as a side dish or over brown rice for a main course.
Nutrition information
Serving size: 1/4 of recipe. Amount per serving: 177 calories, 4g total fat (less than 1g saturated fat), 28g carbohydrates, 10g protein, 8g dietary fiber, 591mg sodium.